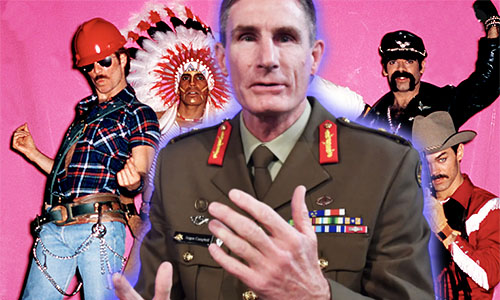 AUSTRALIAN soldiers have been ordered not to engage in cross-gender dress-ups as new Defence Minister Peter Dutton prepares the armed forces for possible conflict. 
After years of governments pandering to a military obsessed with gender fluidity and political correctness, Mr Dutton has finally told the armed services to "get back to business". 
I'm sorry, gender theory doesn't have a place in the modern defence force. Our business is to keep Australia safe.
His latest intervention came after defence personnel had been advised to wear rainbow clothing on May 17 in celebration of International Day Against Homophobia, Biphobia, Interphobia and Transphobia.
Mr Dutton's response was swift, ordering Defence Force Chief Angus Campbell and Defence Secretary Greg Moriarty to cancel the dress-up.
WOKENESS
Mr Moriarty had formerly served as chief of staff to dumped PM Malcolm Turnbull.
The Defence Minister described his tough stance against military wokeness as "just common sense".
"Most people want our defence force to be in the best possible shape they can be in," he told Sky News anchor Alan Jones this week.
"While I won't tolerate discrimination, our business is to make sure we can keep Australia safe and secure.
"We're investing money in our people and in the equipment they need to fulfil that task – and that's the only focus I have and that they should have.
"I've said to our troops before that I've got their backs and we want to make sure we support them getting back to business.
"I hope we have further reinforced that message through my decision last week."
IRRELEVANT
Mr Dutton said gender theory had no future in Australia's defence forces.
"When you're telling people you can't use language like husband or wife and you're asking people for pronouns, I'm sorry, that doesn't have a place in the modern defence force," he said.
"We don't discriminate against people. I don't care about people's sexual orientation, their skin colour, their race or their religion. It's completely irrelevant.
"We treat everyone the same and we don't have the time nor the capacity to embark on these quasi-political agendas.
"We need to make sure our troops are the best possible fighting machine in the world. That's why our allies respect us and our enemies fear us."
Mr Dutton said fighting wars would be the defence force's only focus moving forward – not the woke debate.
"You've got activists on social media who might have a dozen followers who all of a sudden are bullying companies and government departments into positions that do not reflect the majority view," he said.
"People who are working their guts out in the suburbs and regional towns – they work hard for their money, they pay their taxes and they pay the wages of defence force personnel.
"They expect the defence force to be trained as best as they can and not be off on these frolics.
"I've made it very clear that this is not to happen again!"
There is a strong case for Mr Dutton to have education and communications added to his federal portfolio.PC
Dutton: 'This is not to happen again!'
MAIN PHOTOGRAPH:  Defence Force Chief Angus Campbell. (courtesy The Conversation/Rolling Stone, enhanced)