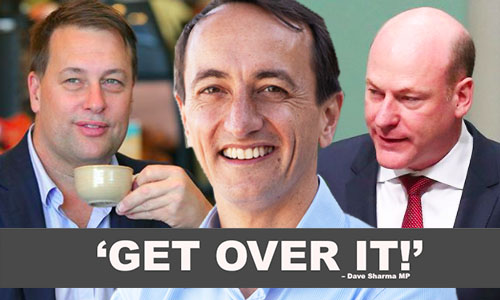 MALCOLM Turnbull replacement Dave Sharma has told conservatives to "get over it" as the Liberal Party continues its radical lurch Left. 
Self-described as a "modern Liberal", the new member for Wentworth said the Party was a broad church and that green energy was "inevitable". 
The Liberal Party is a broad church and an inevitable energy transition is underway. Get over it!
The first term MP was responding via social media to an article published this week by conservative organisation Advance Australia titled "Meet the people undermining Australia's security".
As well as Mr Sharma, the article singled out North Sydney MP Trent Zimmerman, Mackellar MP Jason Falinski as well as Victorian MPs Tim Wilson and Katie Allen.
It accused them of "white-anting Australia's energy security from within the Liberal's party room".
LOSERS
"This is not what most Coalition voters voted for in 2019," the article stated.
"The 2019 election was dubbed a 'referendum on climate change' for goodness sake. And now we have 'modern Liberals' following the lead of Bill Shorten and Anthony Albanese."
It questioned why any Liberal MP would follow in the policy footsteps of such "chronic election losers".
In his response on social media, Mr Sharma said Advance Australia had "embarrassed themselves".
PURGES
"Not content with embarrassing themselves and the people they purported to support at the last election, Advance Australia has now turned its attention to ideological purges," Mr Sharma wrote.
"The Liberal Party is a broad church, and an inevitable energy transition – like many we have been through in the history of humanity – is underway.
"Get over it!"
Mr Sharma previously worked as a diplomat and an Australian ambassador.
Meanwhile, far-Left activist group GetUp has laid praise on Mr Sharma and his "modern" parliamentary colleagues for their continuing efforts to trip-up Australia's gas-led recovery from COVID-19.
"Last week, your local member for North Sydney, Liberal Trent Zimmerman, spoke out for clean energy," GetUp posted on its website.
"Thank him for standing up to climate wreckers," it continued.
The post also carried images of Messrs Falinski, Sharma, Zimmerman and Wilson as well as Ms Allen with the caption "Thank your MP for taking climate action".PC
MAIN PHOTOGRAPH:  Mackellar MP Jason Falinski, Wentworth MP Dave Sharma and North Sydney MP Trent Zimmerman (courtesy The Daily Telegraph/SMH)